Is Omicron More Mild? (Probably Not)
Josh Marshall
You've probably heard reports that Omicron COVID in South Africa has generally been causing milder forms of the disease. The caution on these reports is that they are early, anecdotal, haven't given enough time to generate severe outcomes and have been disproportionately among the young. Each of these points remains true. But over the last couple days the data has become sufficiently detailed that it does seem like people presenting with Omicron COVID are relatively less sick than those who presented with Delta at the same point in earlier waves. So, definitely still too early to say for sure but probably too far along to dismiss it as merely anecdotal or just an artifact of distorted early data.
So doesn't that suggest that Omicron is a milder version of COVID? Here's why it doesn't.
Based on the evidence we have to date the key distinguishing feature of Omicron is that it has much greater immune evasion. It may be more transmissible. It could be a lot of things. But this feature has been clear from the beginning and new lab evidence has only confirmed this distinguishing feature.
I noted earlier that South Africa has relatively low rates of vaccination and extremely high rates of prior infection. So virtually every immune system in South Africa has some experience with COVID.
What appears to be happening is not that Omicron itself produces milder illness. It's that it is much better at causing infection and illness among the vaccinated or those who already had COVID. And because those people already have some immunity – though not enough to prevent them from getting sick – they're getting milder forms of the disease.
We know this from breakthrough infections in the US. Illness in people who've been vaccinated tends to be mild. It's the same principle.
It's also possible that Omicron is milder. It could also cause more severe illness. We simply don't know. The immune evasion feature is more than enough to explain any observed reduction of disease severity relative to earlier waves and strains. And it makes it hard to disentangle anything that might be milder or less mild about the new version of the virus itself.
| News
As state legislators across the country continue to push for so-called "audits" and other investigations into the 2020 election, some independent groups are taking it upon themselves to hit the pavement — going door-to-door and asking people about their vote in the last presidential election.
Read More
| News
A new filing suggests deep flaws in a key prosecution brought by the Bill Barr-appointed special prosecutor John Durham, who is charged with investigating the investigators of the Trump-Russia scandal.
Read More
| News
A new report from the Bureau of Labor Statistics showing that prices rose in October and are hovering at a notably high point has triggered a full-on Democratic panic attack over the fate of the reconciliation bill.
Read More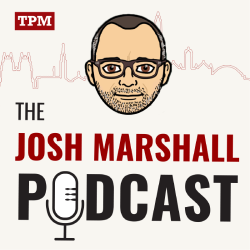 Ep. 202: Filibuster Progress?!
Josh and Kate discuss Congress finally being on the verge of getting a filibuster carveout...but n
MEMBER EXCLUSIVES
PRIMEWIRE