Did Milley Think Trump Would Go Berserk?
Josh Marshall
We've got another Bob Woodward book that has exclusives that read as a bit too good to check. This has always been the thing with Woodward. Since his access has always been purported to be unlike anyone else's he can have scoops that really no one else can confirm. And … well, that's okay, apparently. This new book is – interestingly – coauthored by Bob Costa, also of The Washington Post.
The big revelations, at least in the early accounts, are tied to the action of Joint Chiefs Chair, Mark Milley. Milley was apparently afraid China and the US might stumble into a war around the 2020 election, with exercises around Taiwan and increasingly belligerent statements from then-President Trump. To defuse tensions, Milley allegedly twice called his Chinese counterpart to assure him the US was not planning and would not attack China. He did this once just ahead of the election and then again just after the January 6th.
Read More
| Muckraker
The initial reports on the contents of the new book by Washington Post reporters Bob Woodward and Robert Costa came trickling in this afternoon.
Read More
| Prime
We wrote yesterday about the trend of 2020 election truthers — Big Liars, Trumplicans, pick your title — exposing sensitive information about the inner workings of election software, in the name of Truth and Transparency.
Read More
| News
In May, a federal judge dismissed a Trumpy lawsuit over the 2020 election results in Antrim County, Michigan, where a clerk's error had briefly resulted in a miscount of the vote. "Expert" witnesses in the suit had seized on the discrepancy, which they claimed was the result of Dominion voting machine technology "purposefully designed" to tamper with vote totals.
Read More
| News
When Democrats discuss the climate goals they hope to meet in the reconciliation package, they don't mince their words: "transformational," "once-in-a-generation," "big enough to meet the moment."
Read More
| News
As the U.S.'s two decade war in Afghanistan draws to a close, very few former officials involved in prosecuting it have publicly struggled with the consequences.
Read More
| News
You may remember Tina Peters, the clerk in conservative Mesa County, Colorado, who's now under investigation for allegedly helping facilitate the leak of sensitive election software information to a QAnon influencer.
Read More
| Muckraker
It was Sept. 12, 2019.
Congress was asking why the Trump administration appeared to be concealing a whistleblower complaint, as the White House lifted a mysterious block on $350 million in military aid to Ukraine.
And Attorney General Bill Barr, then-head of federal law enforcement in the Trump administration, was watching a Downton Abbey screening at the British Embassy.
Read More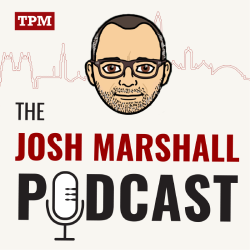 Ep. 190: California Said No
Josh and Kate discuss the failed effort to recall California Gov. Gavin Newsom and the President's meetings with a certain couple of senators who are threat...